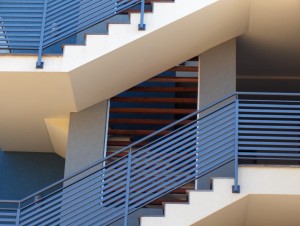 The shading systems for facades are products that shield the sunlight filtering the rays and thus allowing to shade the environment without reducing lighting . These systems drapes can be realized in many different ways and according to the type of requirement it can take several forms .
Albero Maestro dimming systems are made with wooden slats fixed , oriented horizontally and with the inclination required by the customer , may have a bearing structure made ​​of steel or aluminum , lighter product intended only to some applications . The solar shading systems are the ideal solution for facades , walls , windows , verandas and balconies , in fact, can meet architectural requirements and easily adapt to different uses such as in the case of shelters and pergolas , gazebos and solarium .
The module shading system can also be developed to ventilated walls or with the use of "sliding curtain "for balconies and windows . The applications of this product are many , and even if it is required mainly in wood can be achieved even with a particular steel , the COR-TEN , low alloy content material but with high mechanical resistance that presents a particular shade rust , and then , like the wood, it integrates very well in landscaping and proves to be a decorative object and design .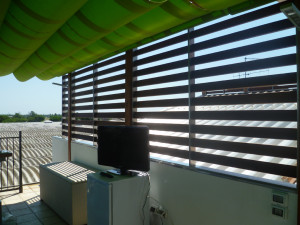 The shading devices fact , born as window treatments and privacy , we have developed a great deal over the years for countless applications in architecture , especially taking advantage of the special features of a material such as wood, as well as being a lightweight, environmentally friendly material , resulting in highly aesthetic applications , with great environmental impact , and transmits a vital feeling of warmth, comfort and well-being in the environment ; so they are also required many installations in interior design .
The strong point of our company is to be able to follow the customer in the process of conception, design and installation , advising and collaborating in the drafting of the project . In fact the different architectural firms with whom we have worked know that , in the face of an idea or a project , our engineers will be able to develop the right product , simplifying the installation procedures and construction work In the dockyard.
For many projects our product is sent in kit where unskilled personnel also can be mounted without any difficulty . But for those more demanding and for the great accomplishments of shading devices we have an expert team of installers available to transfers throughout Italy .
CONTACT US